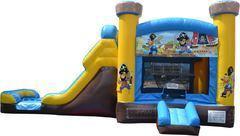 A'hoy Combo "Dry Use Only"




$159.00

All Day Long, One Low Price!



A'hoy Bounce House And Dry Slide Combo
This Bounce house water slide combo has some awesome features such as pirates to make any party exciting. Bounce house has padded enterance so you can safetly inter and exit bounce house portion. As you climb into the unit you have a good amount of jump space with well ventalated windows and roof. As you climb up to you slide you have to tackle a rockwall "with safety handles" in order to make it up, Then you can slide down into the bump stop at the bottom so you safely stay inside the inflatable. Makes for a great time at any party or event.